Spirit of Enterprise: Into the Light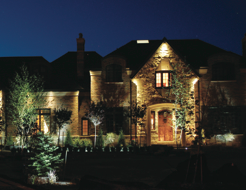 At a Glance: Light Emitting Design

Performance: LED Lighting Design, installation, and consultation since 2005.
Flexibility: Customized lighting for your space and your taste.
Reliability: Quality products and superior service.
Eco friendly: Eliminates bug swarms!
Website: lightemittingdesign.ca
Recent breakthroughs in the lighting industry have opened up new opportunities in lighting design for homes, stores and offices, both indoors and out.
Light emitting diodes (LEDs), are lighting's answer to the digital revolution and have moved from a niche product to the mainstream in only a few short years. From the tiny red and green blinking lights on appliances to stunning residential lighting and all the way up the CN Tower, LEDs allow a level of versatility and creativity that never existed with traditional lighting sources.
Scott MacKinnon of Light Emitting Design speaks from experience when he talks about lighting. He has been in the lighting industry for over 25 years, as a lighting designer in film and television before starting his business with his partner Pam Carnell. "I read a small story in the paper one day about LEDs and a light came on," explains MacKinnon. "We saw an opportunity not to simply sell a product but to provide a service that seemed to be missing in the marketplace. LEDs offer a level of versatility that didn't exist before. Lighting is becoming another art form in itself."
LEDs, because of their unique technology, come in several different shapes and forms. They fit into spaces conventional lighting never could, bending into corners or around curves, embedded into stair nosings and tucked under kitchen cabinets with little or no valences required. LEDs emit no UV rays and much less heat compared to conventional lights, making them ideal for display cabinets, wine cellars or artwork.
Perhaps the most beneficial use of LEDs is outdoors. Again, because of the technology, LEDs are a directional light source. "We waste a lot of light and electricity lighting up the empty sky," says MacKinnon. "LEDs allow me to light the objects and surfaces, much like lighting a film set. I can take 25 watts and spread it around a deck or backyard, and allow people to see much better than they could with their standard 60-watt porch light." No heat also means no bugs. And the directional nature of LEDs means light pollution is greatly reduced.
Lighting is a critical component of any space, inside or out. 80 percent of the information our brain receives is through our eyes, and our eyes need light to be able to work. "A critical part of design is balancing the light levels so your eye doesn't have to work as hard to be able to see," says MacKinnon. "A good design will give you proper light levels and a superior look while reducing energy consumption and waste."
Further, and with pun purely intended, LED has a bright future, says MacKinnon, as innovation heads into new areas of design and greater efficiencies. LEDs are only the start of the lighting revolution!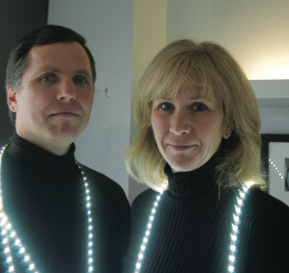 Turning Point: Scott MacKinnon
While the versatility of LEDs allows a far greater customizable approach to lighting, LEDs alone aren't the cure.
"People can use LEDs the wrong way too," explains MacKinnon. With one restaurant client, he found that old lighting sources were causing the food to look… not quite right. "Even though they were using LEDs, they were using yellow ones. The food looked fine in the kitchen, but when it was brought to the customers it looked off because the colour of light was all wrong," he says. "Customers kept sending back the food and the chef couldn't figure out why."
The instant he walked in, MacKinnon saw the problem. "We simply replaced the LEDs with the right colour and the problem was solved," he says. "Needless to say, the chef was thrilled."
v>